A we Flashback 2015, we realize this has been a year to remember! We kicked off the year knowing big milestones were ahead.  We turned the big 6-0 in April! We celebrated in bling style that brought out many of our long time customers, continuous supporters and even Lloyd Schoenhals via Skype! We toasted the day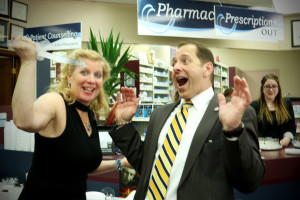 away with a little sparkly and chocolate covered strawberries.  Soon after, we started planning FamFest26. This year was bigger and better than ever- we raised over $2000 for Pathstone Mental Health. Our new "dunk a hunk" feature was a huge hit, and sure to be back this coming year. From January-December of 2015, we continuously gave back to our community through small in store events and our dress down money. We raised $400 for Outreach Niagara, $140 for the Kristen French Foundation, over $2000 for Pathstone Mental Health, $170 plus over 50 shoeboxes for Samaritan's Purse and many non-perishable food items for Project Share. To add to the fun of the year- we also took part in exciting events this summer; The Canada Day Parade was a highlight of the year! In July, Vanessa and Jennifer were happy to support Gateway Residential & Community Support Services in their annual golf tournament. We also continued to better our education to serve you better, Jennifer and Anne Marie went to ACPC training in April, Rina and Vanessa went to the DT show in Toronto and Jennifer recently completed additional PCCA training in Houston, Texas this past November. Together, the staff had many 'lunch and learns' on new products to aid our customers with their overall wellbeing.
We can't wait to see what 2016 brings for our pharmacy and customers!