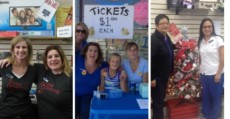 Take a Flashback to what happened at Falls Pharmacy on OUR CORNER in 2013?
Falls Pharmacy and Custom Compound Centre has been part of the Niagara community for 59 years. Our staff chooses our favourite charities as the beginning of the year and each of us pays money on Fridays to wear our street clothes instead of our uniform. This is just a brief synopsis or flashback of the efforts of Falls Pharmacy In 2013 in aiding many charities in both our community and the world at large.
From January to April, our dress down charity of choice was Nick Roma.  In April, we had a "Hair Raising Anniversary.  Nick Roma's inspiring journey spoke to many of our customers and we raised over $3000 for his cause. As a side-benefit, Wigs for Kids received 17 inches of Blonde Hair from Jennifer.   Arden appeared on the front of the Niagara This Week.  The event was witnessed by three press organizations and members of Nick's family.  It was truly a great event!  The outreach from the community for Nick was overwhelming and Falls Pharmacy was happy to be a part.
From May to September, Falls Pharmacy dress down money went to Pathstone Mental Health.  Pathstone reaches so many children in our community and provides excellent support.  Pathstone was a natural partner for Our annual Family Week.  The final day of Family week, is like a Community Fair, providing entertainment for the people in our community.  The week- long event provided health information and activities for the entire family.  Family Week has been part of the Falls Pharmacy tradition since 1999.  This year's event raised over $1500 for Pathstone and we look forward to working with them in the Summer of 2014.
Lastly, during the holiday season we chose to raise money and food donations for Project Share from September- December.   Each Friday, we offered free 5 gallon water fill up if a non-perishable food item was donated in our food bin.  The staff raised $300.00 in cash and our water customers donated an entire bin overflowing of food items.  That was a wonderful planned event, but there was Typhoon Haiyan.  Having two wonderful staff members from the Philippines, we couldn't sit on our hands.  We asked professional designer Philip to decorate a four foot Christmas tree as an incentive for donations.   At last count, we raised over $1000 to send for the Philippine Relief Fund. A special thank you goes out to Philip for donating his time and creating a beautiful Christmas tree with the theme of Peace.   Ami took a charge at this project and really helped push it forward, thank you for that.
All year the staff works hard, helping with our events.  Many of the staff also volunteer outside of work .  The team also participates in two Niagara Falls parades. This year at Christmas we handed out 5000 Candy Canes!  Our Marketing and Customer Relations team did an outstanding job.  Thank you to Rina for her hard work.  I especially want to thank Vanessa; she showed both leadership and unrelenting support to make it all happen.
We look forward to helping more charities in 2014, if you have any suggestions please let us know! If you have a charity that you want us to hear about, drop us an email to questions@fallspharmacy.com.  Follow us on Twitter (@fallsPhmcy) or Facebook.