Memorable Past Employees – Bert
One of our Part Time pharmacists and a very memorable past employees was Bert.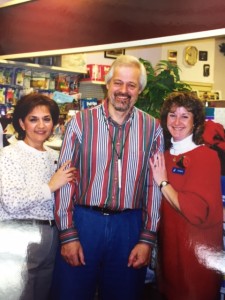 Bert worked as a pharmacist at Falls Pharmacy for many years. He was loved by both staff and customers. He is fondly remembered for his fun spirit and sense of humour. Bert loved to accompany the staff on their lunch breaks and was always a joy to have around.
His daughter, Michelle, is now a pharmacy assistant at Falls Pharmacy and we are happy to have her! On January 31st, Michelle is walking in honour of her father for the Alzheimer's Society of Niagara. As a pharmacy that loves both Bert and Michelle, we have decided to make the Alzheimer's Society our first charity of 2016 to donate our dress down money to.
Michelle states, "I will be walking in honour of my dad who is afflicted with this devastating & debilitating disease.  It has been 4 years since he was institutionalized at the age of 73 & to watch his decline has been extremely hard.  Alzheimer's has affected all of us.  It has robbed my dad of quality of life in his well-deserved retirement years & has robbed us too.  Although my dad is still here, I miss him terribly. I hope you will support me & help this important cause by making a donation.
We hope that you can help Michelle reach her goal and honour Bert. If you have any memories of Bert at Falls Pharmacy, we would love to hear them!
http://support.alzheimer.ca/site/TR/WFA/WFA_ON_Niagara?px=1089591&pg=personal&fr_id=1242